Places Of Tourist Attraction in Bandhavgarh
The prime tourist attraction in Bandhavgarh is the Bandhavgarh National Park. The reserve named after the highest hill Bandhavgarh (807 m) in the center of it, falls between the Vindhya hill range and the eastern flank of Satpura hill range and is located in Shahdol and Jabalpur districts of Madhya Pradesh.
Bandhavgarh is one of the remaining havens for the pride of Indian wildlife-the Royal Bengal Tiger. This is also known as White Tiger territory. These have been found in the old state of Rewa for many years.
Small dams and water holes were built to solve the problem of water shortage. Grazing by local cattle was stopped and the village within the park boundaries was relocated. The Tigers in particular prospered and the 1986 extension provided much needed forest to accommodate them. Bandhavgarh has been an excellent habitat of tiger and is known for the highest density of tigers in the world. Considering the importance and potentiality of the National park, it was included in the Project Tiger Network in 1993. The adjoining Panpatha Sanctuary too was declared as a part of the Reserve.
Bandhavgarh Fort and National Park
There are 32 hills in this part of the park, which has a large natural fort at its center. The fort's cliffs are 2625 feet (800 meters) high, 1000 feet (300 meters) above the surrounding countryside. The fort still belongs to the Maharaja of Rewa and permission is required to visit it. However permission is available locally and no trip to Bandhavgarh is complete without making an effort to climb up the fort. The natural ramparts of the fort give breathtaking view of the surrounding countryside.
The fort has a small population of Blackbuck, which have been reintroduced and to some extent protected from Tigers in the park below by repairs to the masonry walls at the edges of the fort. Thus Bandhavgarh offers excellent game and bird viewing and a historical interest which most other parks lack.
Flora and Fauna in Bandhavgarh
Much of the park is covered in Sal forest, replaced by mixed forests in the higher elevations of the hills. There are extensive stands of bamboo and grasslands. Generally the forests are less dense here, thus offering better sightings of wildlife, notably mammals, including the daylight sightings of Tigers in the grassy 'maidans'. Bandhavgarh is justifiably famous for its Tigers, but it has a wide range of other game. Other inhabitants of the park include the Muntajac, Jungle Cat, Ratel, Jyena, Porcupine, the Rhesus Macaque and the back-faced Langur.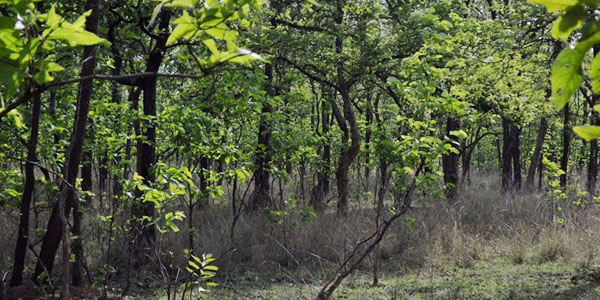 The park also has numerous ancient caves and rock shelters, with shrines and inscriptions. About 150 species of birds known from the Tala area are also found over here including the Brown Fish Owl, Grey-headed Fishing Eagle, Malabar Pied Hornbill and Shahin Falcon.